Black Sunday 6
Special Event: Miracle Mile 30th Anniversary screening
June 8th 2019, Rex Cinema, Wilmslow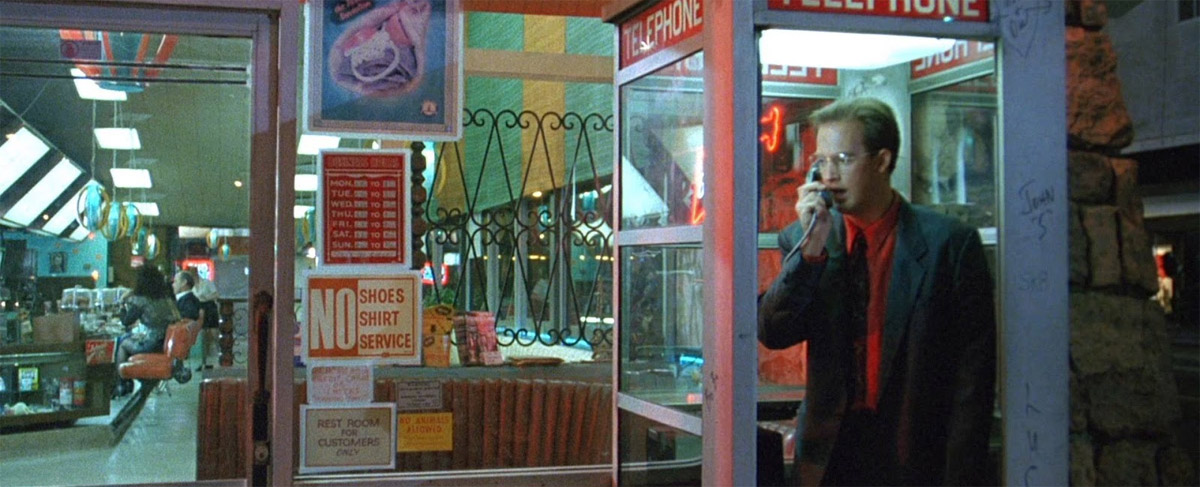 Well, completely out of the blue I get an email from the original Black Sunday organiser Dave Bryan to let me know that he is running one last event, a screening of the classic Miracle Mile with a Q&A by director Steve De Jarnatt, which was originally shown at Black Sunday 3 back in June 1990.
It's showing on Saturday June 8th 2019 at 22:30 at the Rex Cinema in Wilmslow. Think there might also be a meetup at a local pub beforehand too. Sadly I don't think I will be able to attend as it's just that bit too far away and money is a bit tight, but that doesn't mean that anyone else a bit closer to the Manchester area can pop along to see this hidden gem of late 80s cinema on the big screen with an audience. And if you don't know anything about it, all the better; Go in knowing nothing (or as little as posible) and you'll be rewarded even more!
Details can be found from The Rex Cinema or EventBrite or even the Black Sunday facebook page (I don't do Facebook which probably explains why I didn't know about this earlier)
Thameside theatre, Ashton Under Lyne
Saturday 28 September 1991
Films Shown
Night of the Living Dead 1990
Mindwarp
A Better Tomorrow 3
Toy Soldiers
Children of the Night
Beastmaster 2
Magic Cop
Omen 4
Point Break
Class of Nukem High 2
Arthur's Review of Black Sunday 6
A six month wait this time and what's more a new venue, this time moving to the Thames Theatre also in Ashton. The cinema was a similar old style cinema complete with a balcony, stalls and a lounge area upstairs for all the vendors of posters, T-Shirts and dodgy videos to peddle their wares. However there was another more important change and this was to the line up of films. It would seem that horror was going out of fashion and in order to survive the festival had to broaden its horizons and include a wider selection of films that, whilst not horror related, would still appeal to that kind of audience.
Once again having purchased a program, Arthur settled into a seat on the balcony alongside his now regular Black Sunday film festival companion Mr E. and let the films commence. However, one thing that immediately struck Arthur as the first film rolled was that the new venue wasn't quite up to scratch. It seemed that the bulb in the projector was in desperate need of changing as the picture ion the screen was not very bright. Unfortunately this was not rectified at all during the festival despite many peoples protests, Maybe that's why the festival never again returned to that venue.
The film line up was only on par with the previous festival, if not a little worse. The remake of Night of the Living Dead was probably the highlight but unfortunately was the opening film, so it was all down hill from there really. Much was made of the fact that there would be 2 world premieres that evening. The popular American horror film magazine Fangoria had gone into film production, producing a couple of horror films of its own, Mindwarp and Children of the night. Unfortunately both films were rather mediocre and relatively devoid of blood and guts which was surprising considering Fangoria magazine's raison d'etre was as a showcase for the most gruesome gore laden shots from the world of horror.
Following the increase in popularity of Hong Kong Cinema, the festival included 2 oriental films. Magic Cop was in the same vein as Mr Vampire from an earlier festival and was just as much of a crowd pleaser. A Better Tomorrow 2 was Arthur's first introduction to the world of "Heroic Bloodshed" cinema and the first film he'd seen featuring the now classic pairing of Chow Yun Fat as lead actor and Jon Woo as director. The film was introduced by Dave (the regular festival organiser) as a violent gangster film that built up to a spectacular 15 minute finale that had to be seen to be believed. And he wasn't kidding. The final sequence involved the massacre of hundreds of gangsters, all of whom were wearing nice white/cream suits so that the blood would show up better. The film went down really well and once again sent the horror community into a frenzy trying to track down similar films (The Killer and A Better Tomorrow 1, both starring Chow and directed by Jon Woo, had both been released on video in the UK by small, independent companies and were available from Arthur's local video shop).
The award for crap film of the night went to Omen 4 (a very tedious film) and Beastmaster 2: Portal in Time was definitely the winner of the "so bad it's good" prize and attracted a lot of laughter and heckling throughout. 2 mainstream non- horror films were also included: Toy Soldiers and Point break (the latter being the better of the two). The evening concluded with Class of Nukem High 2, which, for the festival's grand finale, was a major disappointment. In fact, for the first time ever, Arthur and Mr E. decided to leave early as they decided sleep was more important than seeing the not particularly exciting final film.